INDICAL BIOSCIENCE, part of the Vimian Group, announced a partnership with Evonik to develop and expand precision monitoring solutions in poultry through the ScreenFloX service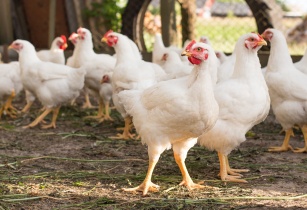 The partnership aligns with INDICAL's ambition to continuously drive innovation in pathogen monitoring and disease prevention for its veterinary and animal-production customers. (Image source: Adobe Stock)
The ScreenFloX service combines INDICAL's veterinary diagnostic capabilities with Evonik's Precision Livestock Farming portfolio to provide proactive analysis of a flock's pathogen status and greater control over any actions required. The service provides producers with continuous insights into pathogen levels, resulting in greater production efficiency, lower antibiotic use, healthier animals and lower food safety risks.
The partnership aligns with INDICAL's ambition to continuously drive innovation in pathogen monitoring, disease prevention and animal welfare for its veterinary and animal-production customers.
According to The Poultry Site, utilising INDICAL's novel qPCR assays – in combination with dedicated sample extraction and automation – Evonik's digital ScreenFloX service can analyse a flock's pathogen status, providing an early warning system to prevent disease and improve production.
"Together with Evonik, we are building a proactive and non-invasive testing system for the active monitoring of flock health in order to prevent disease. This can only lead to increased animal welfare and improved production," said Brahim Bozia, head of producer segment at INDICAL.
"We're excited to collaborate with INDICAL BIOSCIENCE, a global leader in molecular pathogen detection in animal health. This partnership will further strengthen and develop Evonik's provision of deep insights into the health of livestock," added Dr Franziska Levy, global business manager for Poultry Health at Evonik.