Agricultural group Country Bird Holdings (CBH) has reported a rise in revenue of nine per cent to R3bn (US$343.8mn) for the year, up from R2.8bn (US$320.9mn) in 2011, in its 2012 annual financial results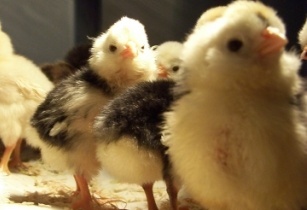 CBH CEO Jeff Wright said that the poultry industry continued to face the challenge of increasing feed prices. (Image source: Judy Roberson)
Despite posting a decrease in overall profits for the year, CBH CEO Jeff Wright remained positive, stating that the group's focus would remain on the quick service restaurant market with expansions planned on its factory shop footprint.
CBH posted an operating profit for the year ended 30 June 2012 of US$17.1mn, with sales volumes in the quick service restaurant market sector rising by 44 per cent in the period under review.
Its South African poultry division reported an increase of 11.3 per cent in revenue for the year due to volume increases of 3.4 per cent and a sales price increase of nine per cent, but the group cited "unusually high levels of imports, significant increases in raw material input costs" and labour issues at one of its factories, as all playing a role in increasing costs.
"Despite the tough trading conditions experienced by the industry in South Africa, the group's poultry and feed businesses achieved a normalised operating profit of R123.7mn (US$14.2mn) and a margin of 5.37 per cent in the local market," said Wright.
"After achieving recognition as KFC's 'Supplier of the Year 2011', our group's KFC franchise in Zimbabwe has successfully concluded its first operating lease in Harare and trading is expected to commence in the next six months," he added. "Post-yearend, we have also opened an export hub in Mozambique which has received KFC accreditation."
Poultry revenues for the period in other African countries, comprising grandparent breeding operation in Zambia and a parent breeding and broiler operation in Botswana, increased by 27 per cent to R185mn (US$21.2mn) from R145mn (US$16.6) in 2011, due to an increase in demand for day-old chicks in Zambia and improved pricing in Botswana.
Nutri Feeds reported an improvement of three per cent in volumes sold for the period under review and a 23 per cent increase in selling prices, leading to a net 27 per cent improvement in revenue to R529.2mn (US$60.6mn), up from R416.8mn (US$47.8mn) in 2011.
Revenue for CBH's combined African animal nutrition operations increased 23 per cent to R319mn (US$36.5mn), up from R260mn (US$29.8mn) in 2011. CBH closed its Klerksdorp red meat abattoir during the second half of the year, opting instead to bring in and debone carcasses depending on demand and pricing, which it said had led to a significantly reduction in fixed costs.
"The poultry industry continues to face the challenge of increasing feed prices and high levels of dumping and imports," Wright remarked.
"Awareness of the impact surrounding the issue of dumping and illegal imports is higher than it has ever been and the industry is actively engaging with government and the relevant authorities for relief."
Poultry and stock feed group CBH, which trades in South Africa as Supreme Poultry and Nutri Feeds, has a range of operations across the southern African region and has operations in Botswana, the DRC, Malawi, Mozambique, Namibia, South Africa and Zambia.