Namibian President Hifikepunye Pohamba has called on Namibian Poultry Industries (NPI), a subsidiary of NMI Group, to target new export markets across the Southern African Development Community (SADC)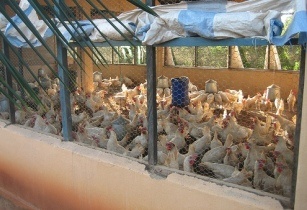 A new hatchery and abattoir has been designed on the Klein Okapuka farm to double up capacity from 250,000 chickens per week to 500,000. (Image source:Erik Cleves Kristensen)
At the official opening of the NPI's extensive poultry facility on Klein Okapuka farm, 30km north of Windhoek, Pohamba explained that Namibia's first-ever commercial poultry industry should continue to expand in order to export to other African countries.
Koos Ferreira, chief executive officer of Namib Mills Investments (NMI) Namibia, stated, "If we regard the population in South Africa to be 50mn, and 2.1mn in Namibia, then Namibia represents roughly four percent of South Africa.
"They consume 21mn chickens per week in South Africa and four per cent of that is roughly 800,000 per week.
"We therefore decided to design the hatchery and abattoir to be able to double up from 250,000 per week to 500,000 per week, if expansion is required later."
Pohamba also pledged Infant Industry Protection (IIP), through the Ministry of Trade and Industry, to NPI, which would protect the new industry from other competitors with tariffs for a limited period.
NPI is part of the Namib Mills Investments Group, who has bases in five SADC countries where they manufacture and supply basic food, including animal feeds and poultry products.