Ugandan-based Hudani Manji Holdings will launch a poultry farm worth US$9.8mn in Uganda tomorrow (30 September 2014)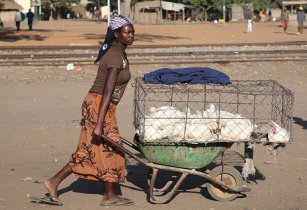 Hudani Manji Holdings is a supplier to fast food companies including Kentucky Fried Chicken (KFC), Tasty's Drive and Cayenne Express. (Image source: ILRI / Flickr)
The 64 acres poultry farm is is situated in Semuto Nakaseke District around 107 km North West of the capital, Kampala.
The facility is reportedly the biggest in East Africa and has been commissioned by the President of Uganda, Yoweri Museveni, said Hudani Manji Holdings.
According to Hudani Manji Holdings, the poultry facility consists of a four metric tonnes feed-mill and two automated broiler houses with a capacity of 40,000 birds each.
The new Broiler farm and processing plant will be the first highly mechanised abattoir in Uganda and the biggest chicken processing facility in East Africa, the plant is highly automated which shortens production time, said Manji Holdings.
"The poultry facility was built in response to the demand for chicken which is on the rise in Uganda especially among the growing middle class," said Rafik Manji, managing director of Hudani Manji Holdings
"This demand has quickly outstripped supply because there is no dominant player in the Ugandan poultry sector," added Manji.