Poultry sector is accelerating development in Nigeria, Ethiopia and Ghana, contributing significantly to the GDP growth in the countries, said the poultry industry leaders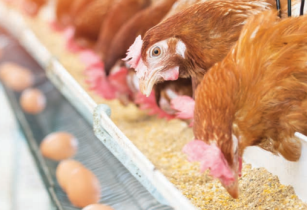 Like Nigeria and Ethiopia, egg consumption in Ghana is low at an average of 20 eggs per capita per year. (Image source: Adobe Stock)
The common challenges included the need for capacity-building, access to affordable, good quality feed, vaccinations and veterinary services, and promoting egg consumption among local markets.
However, low consumption was also seen as an opportunity because it means there is room for growth in the markets of all three countries. Other opportunities included growing economies, especially Ethiopia, growing middle classes across the three countries and an increase in supermarkets, hotels and chain restaurants. There was a discussion on whether there was a growing market for manufacturing and selling egg products, such as egg in powdered or liquid form, which is currently mostly imported from the US.
Idowu Asenuga, entrepreneur and public relations executive for Poultry Association of Nigeria (PANOG), emphasised the growing population of Nigeria, which currently stands at 200mn and is growing at 2.2 per cent per annum. He said that only 42 per cent of Nigeria's arable land is being farmed which affects the local feed industry. "It is a huge challenge that needs to be fixed," said Asenuga of the unused arable land.
Technology is seen to be important for Nigeria's poultry industry development, according to Asenuga. "The growth in mobile and internet usage has created the right platform for precision poultry production and digital marketing," Asenuga added.
Victor Oppong Adjei, CEO of VOA Farms and the chairman of the Ghana National Association of Poultry Farmers, emphasised Ghana's "stable and predictable economy," 26 years of democracy, good governance, rule of law, access to free zones, developing financial infrastructure, excellent fertile, arable land and tax incentives for investing in poultry.
The leaders further discussed a number of ways to develop the industry in the continent.
Click on the latest issue to read the full story