At the 4th Asia Meeting of the World Veterinary Poultry Association (WVPA), held in Kuala Lumpur, Malaysia, the WVPA/Zoetis Young Poultry Veterinarian Award for 2018 was presented to Dr Mary Angani from Nigeria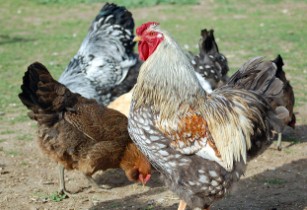 After gaining her veterinary degree she worked with Nigerian poultry farmers educating them on better poultry production practices. (Image source: Cowgirl Jules/Flickr)
Mary is currently in the third year of her PhD on novel diagnostics for coccidiosis at Nottingham University's School of Veterinary Medicine and Science in the UK, having previously gained her veterinary degree and her MSc in poultry medicine at Ahmadu Bello University in Nigeria.
After gaining her veterinary degree she worked with Nigerian poultry farmers educating them on better poultry production practices, especially in relation to Gumboro disease control which is a major cause of losses to the Nigerian poultry industry. Six years ago she joined the veterinary college in Makurdi where she taught, undertook research and participated in community work. She always showed an infectious enthusiasm for her work and rose through the ranks to become a lecturer grade II in 2012 and grade I in 2017.
For a young veterinarian she has already spoken at an impressive number of meetings, however, she intends to return to her first love of helping Nigerian poultry farmers to improve their flocks. On returning to Nigeria, she will become a senior lecturer which will see her handling bigger roles and responsibilities.
C K Mah of Zoetis, sponsors of the award, added, "I have only known Mary for a couple of days but I can see why she is a worthy winner. She joins a prestigious list of previous winners from the USA, South Africa, India, Malaysia, the Philippines and the UK."
Nigel Horrox, president of the WVPA, indicated that the request for nominations for the 2019 Young Poultry Veterinarian Award will soon be made. This award will be presented at the XXI Global WVPA Congress in Bangkok, Thailand, in September 2019.