The USA and South Africa have made progress over the contentious issue of poultry trade access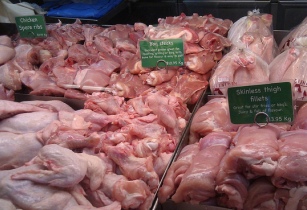 A draught deal proposes that US chicken exports would be restored to their pre-2000 value. (Image source: Alpha/Flickr)
Representatives of both governments met in Washington D.C. last week for trade talks on a number of issues, including the poultry question.
Co-chaired by South Africa and the USA's respective trade ministers, Rob Davies and Michael Froman, the Trade and Investment Framework Agreement (TIFA) Council meeting saw "constructive" discussions on market access and the extension of the Africa Growth and Opportunity Act (AGOA).
A draught deal proposed that US bone-in chicken exports to South Africa would be restored to their pre-2000 value, with a growth factor that took into account the current dynamics of the South African market.
US producers have been demanding that South Africa remove anti-dumping duties on their poultry products – typically bone-in chicken legs – which they say put them at a competitive disadvantage, while their South African counterparts claimed that the influx of cheap American chicken will undercut the local market.
Poultry associations on both sides still need to agree on the quantity of duty-free US chicken which can be imported, but the progress so far will be welcome news for South African businesses, as the country's inclusion in a renewed AGOA trade pact is dependent on the successful resolution of the issue.
The poultry associations met last week, and the South African Department of Trade and Industry said it expected the South African Poultry Association to table an improved offer soon, which may lead to a deal being finalised.