The Zimbabwe Poultry Association (ZPA) has reported a 22 per cent year-on-year rise in poultry production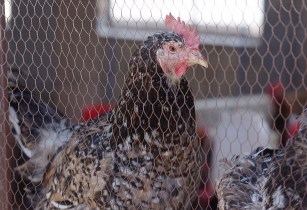 Seventy-one per cent of feed produced in Zimbabwe is used for poultry. (Image source: Lisa Eller/Flickr)
The latest report by the association claimed the total number of chicks produced in the southern African country rose by 14mn between 2013 and 2014 – from 64.4mn to 78.4mn.
The report also posited that, while upscale broiler sector meat production remained largely the same, at 2,690 metric tonnes (mt) per month, the total meat production from day-old chicks is estimated to have increased by 24 per cent to 11,000mt per month.
"The increase is attributed to the growth in the smallholder sector which is estimated to account for more than 70 per cent of total chick sales," explained ZPA chairman Solomon Zawe.
The increase in poultry production was also driving growth in the stock feed sector, Zawe said, with 71 per cent of the 38,500 tonnes of feed produced per month in Zimbabwe in 2014 being used for poultry.
"The poultry industry is now estimated to consume 14,400mt soya beans and 20,700mt maize per month," Zawe stated.