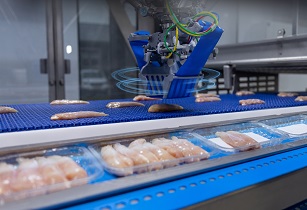 Marel introduces automation in the packing of chicken tenders – a process usually performed manually – with the launch of the new RoboBatcher
---
Featuring a new gripper, the new RoboBatcher Flex for tenders outperforms manual operation by speeding up the process, minimising giveaway and achieving state-of-the-art styling results, thereby saving several workers per shift on this monotonous packing job. Besides reducing the need for labor, the robot also improves hygiene and food safety since fewer people are handling and touching the meat. If required, the dedicated tender gripper on the robot arm can be changed over in a couple of minutes to batch and pack fillets, legs or drumsticks.
In addition, Marel has also developed a fourth gripper, especially for tenders, which features state-of-the-art technology, resulting in the precise, careful handling of tenders. The gripper works by picking up the tender and descending into the tray, which moves along with the belt to achieve a perfect styling.
The RoboBatcher Flex for tenders operates at high speeds, with acceleration forces reach up to 10G. The gripper is also easier to clean, and features several 3D-printed parts that require fewer bolted joints, thus making it lighter and able to move faster.
For more information, visit: https://www.marel.com/poultry/