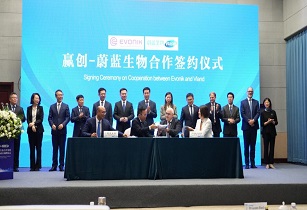 Evonik China Co., Ltd and Shandong Vland Biotech Co., Ltd, have mutually agreed to build a joint venture to expand their presence in farm animal gut health solutions products globally
---
The joint venture which will be headquartered in Binzhou, China, will combine the specific strengths of both partners and is planned to enter the market in Q1/2024. Besides benefitting from Vland's market access, regulatory capabilities in China as well as its fast innovation cycles, the joint venture will also benefit from Evonik's global sales force and market access, R&D and global regulatory capabilities.
Both partners will bring their gut health businesses – such as probiotics and formulated products – into the joint venture to cover the Greater China Region, which accounts for more than 20% of the global feed additives market.
"This joint venture combines the strengths of two successful players in the feed additives business and provides a solid platform for future growth," said head of Evonik's Animal Nutrition business line, Gaetano Blanda. "Together, both partners gain broader market access for their products and combine their innovative strength."
Chairman and president of the Vland Group, Arron Chen also expressed his delight to join forces with Evonik, stating that the two companies were now taking their successful cooperation to a new level.
For more information, visit: https://corporate.evonik.cn/en and http://www.vlandbiochem.com