Jean Baptiste Musabyimana, managing director, Abusol, addressed VIV Europe on the investment opportunities of Africa as a whole with an emphasis on Rwanda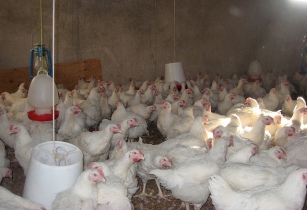 Rwanda aims to develop its poultry industry to boost economic growth. (Image source: Mully Children's Family/Flickr)
Mr Musabyimana launched his poultry business in 2016 and has scaled up from 10,000 chickens when he launched the business to 40,000 chickens today. His presentation echoed the sentiments of earlier sessions in regard to Africa'a growing middle class representing an enormous investment opportunity for the agricultural industry along entire value chains. He said that while there have been conflicts within Africa since independence was granted to multiple countries in the 1960s, these issues have been largely overcome and now is the time for African countries to focus on economic growth. In particular, Mr Musabyimana cited the vast tracts of arable land and growing renewable energy sector as making the continent attractive to investors in agricultural businesses.
"The economies have not really started since World War II," he said, elaborating on this point in regard to Africa's colonial heritage leading to raw materials being exported rather than used for local markets, a trend which continued after independence for many countries. This, in turn, has led to gaps in processing industries when "producers of raw materials could have transformed the economy".
However, Mr Musabyimana was upbeat about African prospects in the years since 2000, telling the conference that the continent's "business climate has changed", as well as African countries experiencing greater political and financial stability.
"Since 2002, Africa's external debt has fallen as a result of initiatives to reduce debt [such as ] the Multilateral Debt Relief Initiative [and] debt write-offs in 2005," he told delegates. Additionally, the continent has attracted investment largely from China, India, Japan and Arabian Gulf countries, and the African Continental Free Trade Area will further facilitate international trade and investment for the agricultural industry.
In regard to Rwanda, Mr Musabyimana said it was strategically located for easy cross-border trade with neighbours, such as Uganda, Kenya, Burundi and the Democratic Republic of Congo. The combined population of these markets is around 244mn people.
Incentives for investors include zero corporation tax for many investors and a low rate of tax at 15 per cent for industries such as energy, ICT and transport. He added that businesses can be easily registered online and the government is able to assist foreign investors with tax administration, access to utilities and visas. A Special Economic Zone has been set up by the government to further help investors.
Mr Musabyimana identified investment opportunities in Rwanda in the following sectors: food processing, poultry, floriculture, beef processing, fisheries and milk processing.