The deadly bird flu, Avian Influenza has wrecked havoc in poultry farms across the world. Botswana is one of the many countries that have been majorly affected by the outbreak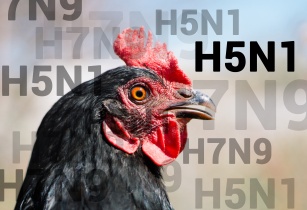 The outbreak of HPAI has adversely affected a number of poultry farms across the world, with Botswana being one of the most affected. (Image source: Adobe Stock)
Avian Influenza (AI) viruses are generally classified into highly pathogenic (HPAI) or low pathogenic (LPAI) strains. Flocks exposed to LPAI are believed to have undergone mutation during the infection process to transform into the more dangerous HPAI strain. The current strain of HPAI seems to be prevalent in wild bird populations, with biosecurity breaches being the main reason of their spread to farms, resulting in the appearance of farm infection clusters in a region.
The outbreak of HPAI has adversely affected a number of poultry farms across the world, with Botswana being one of the most affected. According to a report published by Farmer's Weekly, the US Animal and Plant Health Inspection Service agency recently banned the import of poultry meat, live birds and all poultry by-products from Botswana into the US. John Moreki, a researcher at the Botswana University of Agriculture and Natural Resources stated that despite being self-sufficient in poultry production, the industry seemed to be severely affected by the disease outbreaks.
In a report published by WATTPoultry, Algis Martinez, an American College of Poultry Veterinarians Diplomat listed out biosecurity measures to help contain the spread of the virus. Firstly, given the contagious nature of the disease, farm teams had to be advised to sign an agreement to limit their possession and contact with other birds. Moreover, visitors to the farm also had to be made aware of the precautions to be taken before entering the premises. Secondly, farm placement was considered most important to help control the spread. This meant that farms had to be spaced out and located much farther away from surrounding farms. It was also important to ensure that farms were appropriately fenced and no open water bodies were present within the vicinity that would attract other birds to the farm.
Thirdly, hygiene had to be maintained in and around the farm, with anyone and anything entering the area being cleaned and disinfected. Furthermore, nesting activity by rodents and insects had to be carefully monitored at all times and any nests found had to be immediately disposed and the area disinfected. It was also necessary to keep a look-out for the type of materials entering the farm. For example, litter material, feed and water had to be appropriately treated before being brought into the farm.
In conclusion, Martinez mentioned that although a lot of planning and effort often went into developing a biosecurity plan, depending on the circumstances, it was likely to either be a fail or success. Hence, rather than rushing through the process, he emphasised the importance of creating a program that would work best for the farm team and its members.