Intelsat, communications satellite services provider, has made a strategic investment in Africa Mobile Networks (AMN), to accelerate the deployment of mobile connectivity to unserved communities across multiple countries in sub-Saharan Africa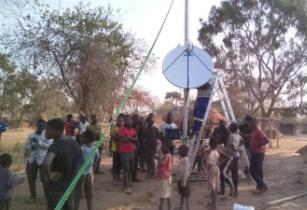 AMN's solution is powered by a highly reliable solar-based system which can be rapidly deployed and installed in less than 6 hours. (Image source: Intelsat)
AMN intent to provide mobile network operators (MNOs) with a network-as-a-service (NaaS) solution in which AMN will fund, build and operate the ultra-rural network for the operators.
AMN's solution is powered by a highly reliable solar-based system which can be rapidly deployed and installed in less than 6 hours. As part of the long-term agreement, AMN will leverage the power, performance and efficiencies generated by Intelsat's next-generation Intelsat EpicNG high-throughput satellites (HTS), as well as the 23 Intelsat satellites covering the continent to provide the optimal balance between coverage and high-throughput for the enabled sites.
Once installed, the sites will connect over the Intelsat fleet to the core of the mobile network operator and deliver 2G mobile services, such as GSM voice, SMS and GPRS/EDGE packet data, with the ability to upgrade the base stations to 3G and 4G as data demands allow.
Michael Darcy, AMN's CEO said, "The high performance, redundancy and flexibility of Intelsat's satellite fleet over Africa made them an ideal partner for us. Intelsat shares our view that mobile coverage is not spreading quickly enough and as such, invested in AMN's vision of installing a cell site in every African village. Together, we can accelerate the deployment of mobile connectivity and work to ensure that communities, wherever they are located, have equal access to high quality, sustainable and affordable broadband connectivity."
Jean-Philippe Gillet, Intelsat's vice-president and general manager, broadband, said, "Bringing mobile connectivity to the most rural parts of Africa requires hybrid networks and innovative business models to truly close the business case. By investing in and partnering with AMN, we can rapidly, and cost-effectively expand an MNO's reach and deliver critical connectivity to communities who many thought were impossible to connect. We look forward to our partnership with AMN and the ability to deliver a network that will support the social and economic development of communities throughout sub-Saharan Africa."