BBC Technologies, part of TOMRA Food, and one of the leading providers in turnkey solutions for sorting, packing and optimising small fruit, has introduced new Tray Tipper, which automates delivery of the fruit into its industry-defining KATO260 sorter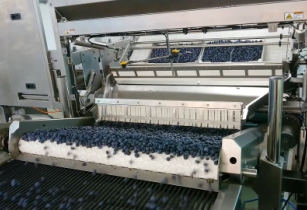 The new automated Tray Tipper system was developed to improve front of line loading of fruit onto its KATO260 precision grading line. (Image source: BBC Technologies)
The new automated Tray Tipper system was developed to improve front of line loading of fruit onto its KATO260 precision grading line, the most refined solution for optical selection and optimisation of blueberries on the market.
The Tray Tipper uses speed feedback from the KATO260 to ensure consistent supply and even distribution of the blueberries onto the sorter, optimising its throughput. It aims to complement the KATO260's design that emphasizes delicate handling and product preservation by gently loading the fruit onto the processing line.
The new Tray Tipper automated system further enhances the high efficiency and quality performance of the KATO260, which can accurately sort at speeds of 280 berries per second, handling the product with extreme care to maximise bloom retention and shelf life.