Lithuanian food-tech company, Divaks has chosen Swiss technology group, Bühler to build its first commercial-scale yellow mealworm plant, which is scheduled to go into operation in 2025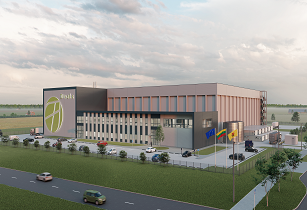 Rendering of Divaks plant. (Image source: Bühler)
The yellow mealworm (Tenebrio molito) which will be produced by the new plant is an environmentally friendly, nutritious protein source and serves a variety of applications.
In the agricultural sector, the residue from the mealworm production (or insect frass) will be utilised as organic fertiliser, as it contributes to healthier soils, thereby fostering a circular economy approach. Besides this, the yellow mealworm can also be used in meat alternatives, sports nutrition, snacks, and confectionery, as well as premium pet food.
Bühler will be responsible for all process technology, which will include feedstock preparation to provide safe, palatable, and nourishing feed to the larvae and a fully automated larvae growth system with sophisticated climate control. Furthermore, Bühler will provide the processing line to transform the harvested larvae into textured insect proteins (TIP), insect protein concentrates (IPC), and other specialised food ingredients.
"This is a huge step forward for Divaks as we work to establish ourselves as global leaders in high-quality insect-derived ingredients for human nutrition," said Divaks CEO and co-founder, Kęstutis Lipnicka. "Bühler will deliver the state-of-the art technology we need, allowing us to focus on the most important activities: market development and creating sustainable products that excel in nutritional and functional qualities."
For more information, visit: https://www.buhlergroup.com/global/en/homepage.html and https://www.divaks.com