Consumer Physics has launched new dry matter analyser SCiO Cup to optimise silage harvesting and ensure consistent dry matter intake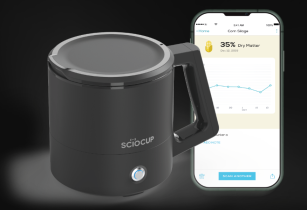 The new SCiO Cup enables custom harvesters, feed companies, nutritionists, and dairy and beef producers to analyze dry matter within seconds. (Image source: Consumer Physics)
The smartphone-operated device transforms feed analysis by enabling frequent dry matter analysis. SCiO Cup enables on-farm decision making ensuring consistent dry matter intake and reducing feed leftovers. In addition, SCiO Cup can be used on-field for planning silage harvest timing at optimal moisture levels.
"We bring lab-level accuracy to the farm, with added simplicity," said Terry Allen, Consumer Physics' North America head of business development. "The process is instant and simple – fill up SCiO Cup with green chop or silage, click the button once, and get results on your phone within ten seconds."
Allen added that SCiO Cup is already being deployed by Cargill and other leading feed and nutritionist brands.
SCiO Cup supports dry matter analysis of chopped corn silage (green and ensiled), legumes silage, grass silage, small grains silage and mixed silage. Silage calibrations are seamlessly and continuously updated in the cloud to ensure seasonal and regional accuracy. SCiO Cup also enables users to track past dry matter results, and trends across time, per field or feed bunker/pit.
SCiO Cup is rechargeable battery operated and can scan more than 1000 samples on a single charge. It is rugged and shock-resistant, designed for on-field applications, and comes with a protective carrying case.
SCiO Cup has been developed by Consumer Physics using Near Infra-Red Spectroscopy (NIRS) and it is based on an earlier version that has been completely upgraded after three years of extensive field tests.
SCiO Cup is the second product launched by Consumer Physics in just a few weeks. In June, the company launched SCiO for Corn - the world's first corn moisture analysis solution that provides instant results, in the field, directly on the cob, without shelling. This solution is tailored for corn seed producers, agronomists, and corn farmers to optimise seed production and corn harvest timing.