The company moves forward toward intended separation into industry-leading, publicly traded companies in agriculture, materials science and specialty products; separations expected to occur within 18 months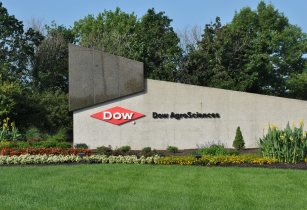 Dow AgroSciences. (Image source: DowAgro)
DowDuPont has announced the successful completion of the merger of equals between The Dow Chemical Company and E.I. du Pont de Nemours & Company, effective 31 August 2017. The combined entity is operating as a holding company under the name "DowDuPont™" with three divisions – Agriculture, Materials Science and Specialty Products.
Shares of DuPont and Dow ceased trading at the close of the New York Stock Exchange on 31 August 2017. Beginning today, DowDuPont will start trading on the New York Stock Exchange under the stock ticker symbol "DWDP." Pursuant to the merger agreement, Dow shareholders received a fixed exchange ratio of 1.00 share of DowDuPont for each Dow share, and DuPont shareholders received a fixed exchange ratio of 1.282 shares of DowDuPont for each DuPont share.
"Today marks a significant milestone in the storied histories of our two companies," said Andrew Liveris, executive chairman of DowDuPont. "We are extremely excited to complete this transformational merger and move forward to create three intended industry-leading, independent, publicly traded companies. While our collective heritage and strength are impressive, the true value of this merger lies in the intended creation of three industry powerhouses that will define their markets and drive growth for the benefit of all stakeholders. Our teams have been working for more than a year on integration planning, and -- as of today -- we will hit the ground running on executing those plans with an intention to complete the separations as quickly as possible."
"For shareholders, customers and employees, closing this transaction is a definitive step toward unlocking higher value and greater opportunities through a future built on sustainable growth and innovation," said Ed Breen, chief executive officer of DowDuPont. "DowDuPont is a launching pad for three intended strong companies that will be better positioned to reinvest in science and innovation, solve our customers' ever-evolving challenges, and generate long-term returns for our shareholders. With the merger now complete, our focus is on finalizing the organizational structures that will be the foundations of these three intended strong companies and capturing the synergies to unlock value. With clear focus, market visibility and more productive R&D, each intended company will be equipped to compete successfully as an industry leader."