DuPont Industrial Biosciences broke ground on the new site at the Leiden Bio Science Park in Oegstgeest, the Netherlands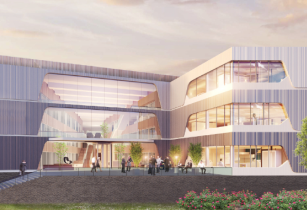 DuPont to expand research capabilities in Leiden at new facility equipped with cutting-edge biotechnology laboratories. (Image source: DuPont)
The multidisciplinary facility is set to utilise the tools of modern biotechnology to make industrial processes more efficient and products more sustainable.
The bio-based solutions will focus on reducing food waste, reducing the environmental impacts of livestock farming and improving animal health, producing renewable fuels and lowering environmental impacts in the textile and laundry industries.
The capacity of the new site in Oegstgeest is set to double the potential for growth of the current employee base, with the potential of creating an additional 100 jobs at the facility including research and development, application development, marketing, sales and customer service.
"Our Leiden scientists have been developing innovations that enable our customers to improve the efficiency and sustainability of their processes and products for many years," said Simon Herriott, vice-president and global business director for bioactive at DuPont.
"This new facility will enable our teams to do even more – to improve the pace of biotechnology and the speed with which we can deliver it to the market. The ecosystem of talent, academia and community we find in the Leiden Bio Science Park is ideal for our work and for keeping us globally competitive," Herriott added.
"Oegstgeest is pleased with DuPont establishing a site in our municipality. With DuPont building this facility in the Oegstgeest part of the Leiden Bio Science Park, organisations such as Corpus, Hilton and Avery Denison will be joined by an esteemed neighbour," commented Jan Nieuwenhuis, Alderman Economic Development and BioScience Park of the executive mayor and Aldermen of the city of Oegstgeest.
DuPont has partnered with Dutch developer and construction company Dura Vermeer on the building in Oegstgeest, which will cover 7250 sq m, a doubling of the capacity of the current facility for the business. The project will receive a BREEAM "Excellent" rating – an impressive measure of a building's sustainability and environmental footprint. The construction is scheduled to be completed in 2020.
The construction marks an important milestone in the growth of the company, with the new site in Oegstgeest being an important hub for business in Europe, Middle East and Africa.