Westfalia Fruit Colombia, a company of Westfalia Fruit, a South African leader in the supply of subtropical fruit, has inaugurated a new processing plant for Hass avocados in Sonsón, in the department of Antioquia, Colombia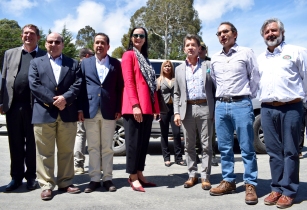 The plant features the latest grading and sorting technologies of Compac. (Image source: Westfalia)
The new facility is the largest and most advanced avocado processing plant in the country, featuring the latest grading and sorting technologies of world-leading packhouse technology provider Compac.
The new plant significantly extends the processing capacity of Westfalia Fruit Colombia, adding to the two facilities it already runs in Antioquia. The company started operation in the production, packing and sale of Hass avocados for export in 2012, and has developed very fast in the country's buoyant avocado industry which, according to the Trade Ministry, has seen exports increase by 413 per cent from US$10.3mn in 2015 to US$52.9mn in 2017.
In six years Westfalia Fruit Colombia has exported more than 800 containers to international destinations across the world such as the UK, the Netherlands, France, the USA, Spain, Canada and Saudi Arabia, quickly becoming the country's first exporter of Hass avocados. With the investment in the new facility in Sonsón, the company expects to triple its production capacity to support its continued growth.
Pedro Aguilar-Niño, general manager of Westfalia Fruit Colombia, stated, "This processing plant has the highest capacity and the most advanced technology in the country – it is a strong statement of belief in the region, which becomes a true cluster for the production and export of Hass avocadoes."
Cutting edge technology for the new Sonsón processing plant
The new processing plant benefits from the advanced packhouse technologies of the Compac Multi Lane Sorter (MLS) and Inspectra systems.
"These solutions will provide the answers to Westfalia Fruit Colombia'srequirements," explained Jacinto Trigo, regional director at Compac Latin America.
"They ensure the consistently high quality of its product and optimise grading precision. Together with the high quality after sales service that Compac is able to deliver, its packhouse technology enables the company to meet its requirements in post-harvest processing capacity, minimise waste, and ensure its customers' satisfaction," Trigo added.