In its attempt to curb the spread of COVID-19 virus, the agribusiness company Flour Mills of Nigeria PLC (FMN Group) has promised to redeem a pledge worth US$280mn to the Nigerian Private Sector Coalition Against COVID-19 (CACOVID)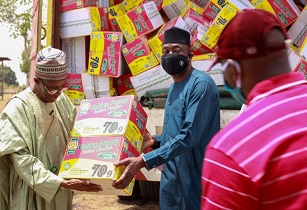 The group aims to provide food supply and health facilities during COVID-19 crisis. (Image source: FMN Group)
One of the first initiatives undertaken by the FMN Group was the US$2.8mn pledge to the CBN-led Nigerian Private Sector Coalition against COVID-19.
FMN is using its global network of supply chains to procure medical supplies worth US$1.5mn worth for Nigeria and commenced a food relief distribution activity worth US$840,000, across 12 Nigerian States, to help the at risk communities.
At present, there are 373 confirmed cases, of which 99 people have recovered, and 11 have died.
"To reduce the impact of the Coronavirus outbreak, FMN will continue to work with the Federal Government and related agencies to provide relief materials. The safety of Nigerians is paramount to us, so we would encourage people to follow the necessary protective measures to curb the virus's spread," said the group Chief Operating Officer Boye Olusanya in a statement.
This initiative to help the Nigerian Government was spearheaded by philanthropic and industrialist John Coumantaros, chairman of the FMN Group.
The plan constitutes managing the Nigerian Centre for Disease Control (NCDC), vendors from five nations, multiple logistics partners, and a tireless team drawn from the FMN group's operational employees. The team has overcome several challenges in procurement of medical supplies, such as limited stock, and transport restrictions, to help provide the following:
· 331,000 pieces of PPE (N95 Masks, overalls, gloves, protective eyewear) for 10,000 Nigerian healthcare professionals for more than two months.
· 35,000 laboratory-based testing facility
· 100 field-testing per day
· 75 Ventilators (to be distributed through the NCDC)