Netafim has partnered with the government of Rwanda to build water and irrigation infrastructure for 15,600 hectares of land including a fully automated drip irrigation and fertigation commercial blocks – both for the local community as well as multinational investors – fulfilling the vision of the local government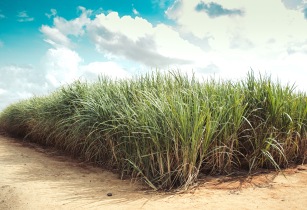 Bagamoyo Sugar together with Netafim, achieved more than 180 tonnes per hectare using sub-surface drip irrigation and automation systems by Netafim. (Image source: Netafim)
Netafim supplied irrigation and advisory services to the Bagamoyo Sugar Bhakeresa group of companies, for a sugarcane project spread across more than 2000-hectares. In rainfed condition, yield for sugarcane in this location is between 25 to 45 tonnes per hectare. Bagamoyo Sugar together with Netafim, achieved more than 180 tonnes per hectare using sub-surface drip irrigation and automation systems designed and executed by Netafim. This project is showcasing the potential of advanced irrigation technologies across all climatic and soil conditions.
In Gabon, Netafim recently kicked-off the largest drip-irrigation project in the world. This project aims to increase yield for palm oil. In North Africa like in Morocco, Netafim works with many other high value crops like blueberries, citrus and demonstrates the benefit of high-end technologies, and is preparing to establish a manufacturing plant during the second half of 2022. Currently, Netafim is exploring partnerships, both with private and government sectors, focusing on serving our partners globally while developing advanced solutions in order to jointly address the issue of regional food security and thus ensuring prosperity.
Discussing how precision irrigation is helping, Elad Levi, vice-president, head of MEA, Netafim, said, "Precision farming aims to maximise yields while minimising resources and countering the challenges of limited availability of water and land. We need to grow more with less, which means using our resources in the most effective and efficient way. On average our technology saves approximately 50% of the water required, mainly due to reduced evaporation and delivery of water and nutrients directly to the plant roots in smaller, steadier and accurate amounts. This means significantly more yield is produced for less water and other inputs".
Netafim has been working towards ensuring that countries in Africa can combat the challenges stemming from climate change. Projects such as transforming agriculture in Tanzania, Kenya, South Africa, Zambia, Zimbabwe, Malawi, enhancing productivity and cultivating sugarcane, avocados, coffee and other field crops and vegetables, as well as empowering communities through on-site training and employment and increasing productivity, have all aimed to achieve this goal.