A joint collaborative project funded through Innovate UK and Defra's Farming Innovation Programme: Research Starter round two, will use technology to monitor biodiversity 24/7 on a dairy farm in Somerset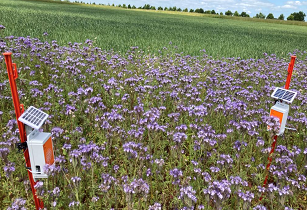 Three separate remote sensing digital technologies will detect, identify, and quantify varieties of invertebrates and birds. (Image source: Agri-EPI Centre)
The project will involve organic dairy farmer, Sophie Alexander; Agri-EPI Centre; Dorset Wildlife Trust; AgriSound; Pollenize CIC; and Chirrup AI
This research project is to act as a 'pilot' which will test and aim to demonstrate the effectiveness of digital technology as a means of remotely monitoring wildlife diversity and abundance in a farming context. It will be carried out at Hemsworth Farms, where soil rehabilitation and wildlife restoration have been priorities for 12 years and where there is an ideal mix of organic dairy and arable farming.
Three separate remote sensing digital technologies will detect, identify, and quantify varieties of invertebrates and birds and the correlation to flowering plants that they rely on. Farm walks will take place by a Pollenize technologist utilising the Pollenize app to photograph and geolocate plant species. The same transects monitored by the digital devices will also be surveyed by a professional ecologist from Dorset Wildlife Trust and the findings compared and ground truthed for validation purposes. Chirrup AI will use artificial intelligence to monitor species of birds that are thriving on the farm. This, in turn, will reveal more about the diversity of bugs and seeds above ground, and the richness of life in the soil.
"I believe it is important to establish our biodiversity baseline and to continue to monitor progress," said Alexander. "There are too few experienced ecologists with sufficient time to manage it all. We are therefore pleased to be involved with testing the data collection capabilities of digital technologies, to ground truth the information and demonstrate how an organic farming system can nurture wildlife as well as produce food."
This early-stage feasibility project, bringing together a technology start up with RTO and end user, will explore emerging applications of remote sensing to inform the development of a commercially relevant solution. This will catalyse a pipeline of further R&D across a much wider area, new research collaborations and accelerate research translation and development of new solutions.
Casey Woodward, founder and CEO of AgriSound, said, "We are absolutely thrilled to be embarking on this exciting new R&D project with Agri-EPI Centre and Hemsworth Farms. It's a tremendous opportunity for all parties involved to put AgriSound's cutting-edge pollinator monitoring technology to the test in a real-world farming context. We truly believe this project has the potential to shed new light on all of the great work happening across British farms to improve local biodiversity.
"This collaboration not only underscores the importance of partnerships in driving forward sustainable agriculture but also showcases the immense value of innovative sensing technologies for biodiversity assessment which are being increasingly required as consumers expect produce sourced from sustainable agricultural practices. We anticipate that the insights gained from this project will not only help Hemsworth Farms to better understand and manage biodiversity on their own sites but also act as an example for the wider industry, demonstrating how technology can be harnessed to promote biodiversity and sustainable farming practices."