Social enterprise Ignitia has joined the Business Call to Action (BCtA) to deliver tropical weather forecasts via text messages to farmers in West Africa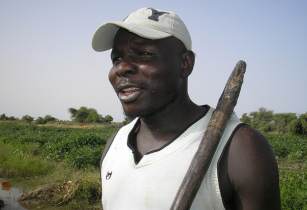 With the new weather forecast model, farmers can gain access to firsthand weather updates and plan their farming seasons accordingly. (Image source: WorldBankPhotoCollection/Flickr)
Iska, Ignitia's forecasting model, creates reliable, GPS-specific weather forecasts. Two-day, monthly and seasonal forecasts are sent to customers via text.
By the end of 2017, around 1.2mn small-scale farmers in West Africa will receive such text updates, said BCtA. A global initiative backed by the United Nations, BCtA helps businesses like Ignitia engage with economically-backward sections of societies worldover.
With limited access to weather updates, farmers in tropical areas have a hard time planning their agricultural activities. More than 2.8bn people worldover reside in tropical areas and a majority thrive on small-scale farming. Specifically, yields of sub-Saharan Africa's small-scale farmers are among the lowest in the world, causing food insecurity poverty and stagnant economic growth, said BCtA. A study conducted on smallholder maize farmers in Mali revealed that using meteorological data alone, yields could go up by 80 per cent.
Iska, which was launched in 2014 in Ghana, has an 84 per cent success rate compared to global forecasts, which have only a 39 per cent accuracy rate, saod BCtA. Each forecast is customised according to a farmer's location by an automated application that fetches the most common GPS coordinates. Following this, an SMS is sent in a text-lite format, which can be received by even the most basic mobile phone. Farmers are charged around US$0.04 cents per day for the service, which can be paid via micro-installments from prepaid mobile credit.
To date, more than 80,000 farmers have been aided by Iska and more than six million weather forecasts have been sent out.
Going forward, Ignitia plans to introduce its weather forecast service to other parts of Africa, Southeast Asia and Central America.