Kenya-based research firm International Centre for Insect Physiology and Ecology (ICIPE) has launched a project worth US$2mn to develop insect-based feed for fish and poultry farmers in Kenya and Uganda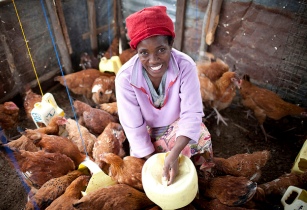 ICIPE aims to investigate the use of edible insects as a new, sustainable source of food and feed. (Image source: USAID Kenya/Flickr)
Segenet Kelemu, director general of ICIPE, said, "The insect feed is expected to reduce the cost of poultry and fish production in the countries."
Kelemu noted that the project would apply a series of technological interventions at production, harvesting and post-harvesting stages with the involvement of public and private sector. This would include identification of suitable insect species, assessing the potential market and nutritional attributes of the products, he added.
"We also plan to develop a cost-effective insect rearing, harvesting and post-harvest techniques for smallholder producers," the director general stated.
Phiona Gichuru, research assistant with Kenyan feed manufacturer Unga Feed Limited, confirmed that the price of animal feed had gone up in the recent past, and the company is ready to accept insect-based feeds once approved by the Kenyan government.
Gichuru observed that the market would readily accept the new insect-based feed once it becomes available and affordable.