Symaga Group, a global provider of galvanised steel silos for grain storage, has received the award of "Enterprise Merit in Export Category"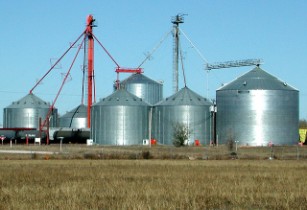 Symaga Group is a global provider of galvanized steel silos for grain storage. (Image source: Ronnie Pitman/Flickr)
Given by the CLM Government to the companies having proved an export activity and trajectory, the award recognises the company's effort to grow and consolidate as one of the manufacturers leaders in worldwide industrial silos sector.
"We finished this year with own manufacturing record in the first semester of 2017, leading worldwide projects, such as the ones being developed in Ukraine of 240.000 tonnes storage facilities and a new port terminal in Odessa. In the second semester of 2017, we took part in the second largest storage project until the date, 6 paddy rice facilities in Nigeria, the total capacity of the six plants, four twin facilities of large capacity and two of less capacity is more than 390,000 tonnes," said the company.
"We supplied three large facilities in Saudi Arabia, King Abdullah Seaport port terminal, a new feed mill in Yanbu port terminal and the third facility storage starch and glucose, six silos of more than 27,000 cu/m."
Present in more than 140 countries, 90 per cent export rate and more than 20 years in the international market, Symaga Group aims to appear as one of the leading manufacturers in global industrial silos sector.