Welland Power, a family company nearly 70 years old has succeeded in getting on the list for the second time running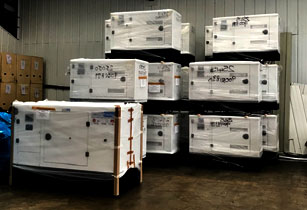 The UK business hopes to find new customers and dealers in territories around the world. (Image source: Welland Power)
Welland power, a UK generator company has achieved an export track award for the second time.
Spalding in Lincolnshire Based, the company, currently managed by its third generation of Farrow family member builds around 1900 generators per year, mostly Perkins and Cummins Powered made the list with impressive sales figures.
As planning is approved for the expansion of new products like inverter generators, markets CEO Charlie Farrow said, "It's such a great thing to be recognised for your hard work and the hard work of your entire team. Welland Power strives not only to be a successful business, but also to be a great place for every employee to work and grow."
Following on from a Track 100 award in December, the UK business hopes to find new customers and dealers in territories around the world. Its recent launch of an iOS App increases its brand position and will surely drive some future success.
For more information, please visit Welland Power