The West African Cotton Company (WACOT) has announced it will invest a substantial sum in Nigeria's Ogun State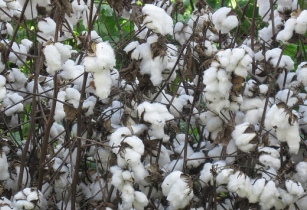 Cotton was formerly one of Nigeria's most important exports, prior to the discovery of crude oil. (Image source: Gloria Cabada-Leman/Flickr)
Following a meeting between representatives of the company and government officials from the southern Nigerian state this week, it was made public that WACOT has agreed to invest upwards of US$25mn in the local agriculture sector and associated value chains.
The agreement forms part of a wider strategy by the Nigerian government to diversify the national economy and reduce the country's reliance on the oil and gas sector.
WACOT — which is involved in cotton ginning, selling cotton lint to textile mills, and exporting cotton lint, gin motes and textile mill wastes — is set to benefit from this diversification, through which the government hopes to place more emphasis on the importance of the agriculture sector.
Nigerian President Muhammadu Buhari recently spoke of the need for a different approach in order for farming to achieve its full potential, while former agriculture minister Akinwumi Adesina, now president of the African Development Bank (AfDB) said earlier this year that the country's future millionaires will make their money from the sector.