The World Bank announced on 20 March that a US$100 million project to support better management of forests, rangelands and agricultural landscapes for more jobs and increased incomes in the North-West and Center-West regions of Tunisia, where almost half of the poorest segment of the population are concentrated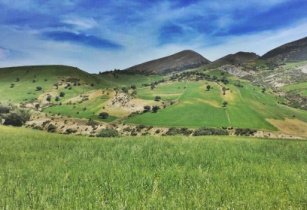 A la découverte de Oued Zitoun, Tunisia. (Image source: Mansour asma/Commons)
The Integrated Landscapes Management in Lagging Regions Project will finance the key ingredients of improved management of natural resources; including more accurate data for well informed decisions, laws that promote better and integrated management, and strengthening the technical and managerial skills of the many stakeholders in agriculture at the national, regional and local levels. The project will also support the introduction of climate-smart agriculture, while fostering economic growth through productive alliances and value chain development at the community level.
"Sustainable and integrated management of landscapes has an important role to play in improving the lives of people in rural regions that have been left behind," said Eileen Murray, World Bank Country Manager for Tunisia, "there is significant potential for growth if local communities are provided the support to reorient towards higher value added products and growing global markets. This would especially benefit women, who make up over half of the rural labor force and up to 80 percent in the North-West and Center-West."
The combination of overgrazing, deforestation and climate change poses a significant threat to Tunisia's natural resources and agriculture, and the wellbeing of rural communities who rely on them. The cost of deforestation and forest degradation is estimated at US$14 million per year, and the cost of rangeland degradation and clearing is estimated at US$36 million. In countering this threat, the project aligns with the national strategy of promoting sustainable management of natural resources and support for a green economy, as well as shifting from a top-down to a bottom-up approach to decision making that empowers local communities. The project will also have a specific focus on creating more and better opportunities for women, who make up the majority of the rural labor force in the two regions, and young people.
The Ministry of Agriculture, Water Resources, and Fisheries will implement the project, guided by a cross ministerial steering committee and regional councils in each governorate, as well as local development councils that will lead the consultative process to identify the sub-projects that will be funded by the project. The local development councils will be broadly representative of the local population, offering women and young people, in particular, the chance to participate in local decision making.