The Africa Agriculture Technology Foundation (AATF) has announced it plans to introduce cassava mechanisation and agro-processing to more than one million farmers in Nigeria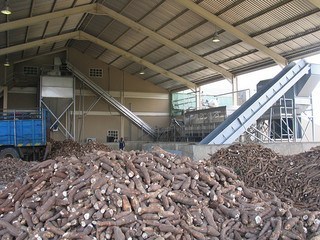 The scheme is set to help more than 10mn people across the continent. (Image source: International Institute of Tropical Agriculture/Flickr)
The scheme, which will aim to accelerate cassava harvesting and processing, is set to help more than 10mn people across the continent.
Denis Kyetere, executive director of AATF said, "AATF works towards food security and poverty reduction in sub-Saharan Africa and its structure and operations draw upon the best practices and resources of both the public and private sectors. It also contributes to capacity building in Africa by engaging African institutions in the execution of tasks that contribute to the Foundation's mission."
Kyetere added that the foundation also aims to tackle areas such as the impact of climate change on agriculture, pest management, soil management, nutrient enhancement in foods, improved breeding methods and mechanisation.
In addition, the AATF assists Africa's smallholder farmers by confronting specific problems threatening most food crops such as bananas, cowpea, peanuts, maize and rice.
Kyetere, who said the foundation hopes to reach out to 300 farmers in Nigeria this year, added, "We already have 100 ha of cassava in Kwara State and we are going to complete the value chain from planting to the selling of the product. Our intervention is easy and very attractive in the sense that planting of cassava that usually takes farmers four hours or more will only take us 45 minutes, with application of fertiliser at the same time. This I hope will attract many people, especially youths, to embrace farming, which will in turn reduce the challenge of unemployment in the sub-region."