A cassava processing mill with a capacity of 72,000 metric tonnes of high quality provitamin A-rich cassava flour is to be built in Akwa Ibom State, Nigeria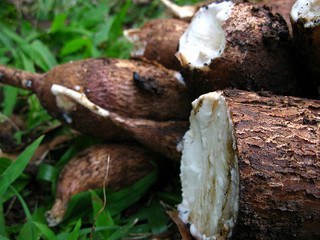 The proposed mill would use 300,000 metric tonnes of cassava roots per year. (Image source: Ikhlasul Amal/Flickr)
Speaking in Ugo at the Nigerian launch of provitamin A-rich cassava, the country's minister for agriculture and rural development Akinwumi Adesina said the proposed mill would use 300,000 metric tonnes of cassava roots per year.
"This is one of the things President Jonathan was able to negotiate in China when we were there. With that, Akwa Ibom will become one of the major processors of high quality cassava flour in Nigeria," he said.
Adesina added that Nigeria is determined to maintain its position as the largest processor of cassava in the world.
"We are going to turn our cassava into high cassava flour so that we can replace some of the wheat that we importing," he said.
Regarding the provitamin A-rich cassava, Adesina said many households suffer from malnourishment and he called on the government to improve the nutrient value of the food staple.
"Our goal is to reach 1.5mn households this year and to expand that to 1.8mn households, with 70 per cent of them being women. We know that 30 per cent of our children and 20 per cent of pregnant women are affected by malnutrition in Nigeria."
Adesina added, "Most of them don't have access to micronutrients. This is why we must accelerate efforts in decision- and policy-making to improve nutrition for vulnerable groups, in particular women and children. We must scale up micronutrient intervention. As we provide vitamin A through these varieties, we are actually building a future for the children."
Akwa Ibom State governor Godswill Akpabio hinted that the state has prioritised cassava programmes to make food sufficiently available to residents through collaboration with international agricultural agencies.
"We are told that this improved variety [provitamin A-rich cassava flour] holds part of the solution to vitamin A deficiency in Africa. The cultivation and consumption of these varieties would therefore bring succour to children and pregnant women," he said.
Akpabio added, "Besides improving the health and nutrition of the people, the cultivation of the variety would also provide jobs, improve incomes and lift poor households out of poverty."