The use of ICT by smallholder farmers in Zimbabwe is increasingly making an impact on agricultural production, incomes and resilience, according to a local farmer markets expert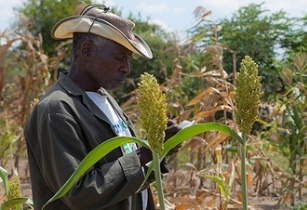 Zimbabwe's expanding ICT industry will provide smallholder farmers with better access to market information. (Image source: Swathi__Sridharan)
Knowledge Transfer Africa (KTA) farmer markets expert Charles Dhewa stated that Zimbabwe's ICT industry is rapidly expanding, but added that farmers in the country still needed to combat issues related to agricultural content.
"The expansion of ICTs in the country should help us provide farmers with information on market prices of farm produce and where to get critical farm inputs," Dhewa said.
"Wider use can also help smallholder farmers on methods of value addition as well as sharing important farming knowledge.
"While the ICT industry is said to be growing in Zimbabwe, it is mainly the number of gadgets, phones, laptops and other hand-held devices that is growing and not the important asset content."
KTA's programme to expand the use of ICT in Zimbabwe is expected to grow access to market information, which would benefit farmers who are the major beneficiaries of land reform.
"To fill in this gap, we are gathering, processing, customising and brokering agricultural content to help farmers with information and knowledge about markets," Dhewa added.