Global warming and the resulting climate change, along with other factors have largely impacted food security in Africa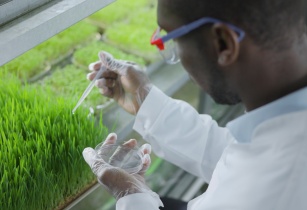 Scientists have been called on to develop brand new technologies to help tackle climate change (Image source: Adobe Stock)
Scientists have been called on by the Minister of Food and Agriculture, Owusu Afriyie Akoto to develop brand new technologies that enable sustainable production of food and fibre that align with the constantly changing weather patterns. "We also will need to develop new varieties, and new livestock breeds that are tolerant to adverse weather conditions and are able to withstand the vagaries of climate change," said Akoto in a report published by All Africa.
The Science and Partnerships for Agriculture Conference (SPAC 2022), is a three-day event which is currently underway in Accra. It is based on the theme: 'Introspection on climate-smart agriculture action to strengthen accountability, resource use and impact in Africa' and aims to provide a platform to discuss innovative solutions to climate-smart agriculture.
At the event, Akoto pointed out that the sustainability of African food systems was challenged by climate change long before the COVID-19 pandemic and the Russia-Ukraine conflict aggravated the situation. Moreover, it is ironic to see that agriculture being the second highest contributor to climate change is also at the same time, taking the greatest hit from the harsh effects of global warming.
"Our ability to think green and mainstream green actions in all our activities will go a long way to combating climate and achieving sustainable food systems," stated Akoto at the conference. The FARA board chair, Alioune Fall called for an intercontinental partnership and collaboration to tackle these issues since their negative effects had an impact not only on Africa, but other countries too. "Our partnership is a good instrument for mutual learning, exchange of knowledge and technologies, and fostering synergies. This will help strengthen the strong and help the weak come to good speed in their craving for development and self-actualisation," said Fall.