Danisco Animal Nutrition and Health recently announced their partnership with Dutch company Single Spark. In another development, BASF declared their upcoming collaboration with German speciality chemicals company Evonik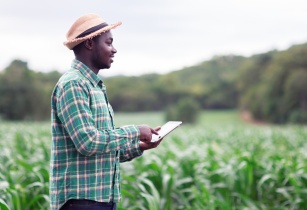 Major players announce their collaboration to minimise environmental feed footprint. (Image source: Adobe Stock)
Following their alliance with Danisco Animal Nutrition and Health, Utrecht-based company Single Spark is planning to integrate Danisco's Axtra PHY GOLD into their app 'FeedCalculator' with the aim of widening the access of the phytase enzyme to smallholder farmers and feed mills in Africa. This enzyme allows the formulation of inorganic phosphate-free high phytate diets and is thus capable of boosting the sustainability of animal production. It has also been proven to offer thermostatability and outperform other varieties of commercial phytases.
Now, looking more closely at Single Spark's free of charge, easily downloadable FeedCalculator app, the smart algorithm that the app relies on allows users to utilise local raw materials to create a customised feed mix. An efficient digital platform like FeedCalculator goes hand in hand with Danisco's phytase enzyme, giving the two companies a good reason to collaborate. This, along with the fact that both companies share a common goal – to help African farmers produce the best quality feed from locally available raw materials at the most efficient cost, sets up their partnership for future success.
In a report published on Feed Navigator, regional sales manager for Danisco, Segun Oluwole stated that the company was excited to be a part of the initiative. He mentioned that the platform enabled them to translate their research data into an established, practical and integrated digital feed-mix format. He also pointed out that it helped farmers limit their usage of expensive feed ingredients such as corn, soy and inorganic phosphate by instead replacing them with cheaper alternatives such as rice bran, wheat middlings, sunflower meal, etc.
Standing next in line is the collaboration between the two German chemical giants, BASF and Evonik. BASF's digital sustainability platform, Opteinics was launched in 2021 and offers modules for both pig and poultry. It measures, analyses and minimises the environmental impact of animal protein. In the report, Evonik stated that using the software would help the livestock industry fight climate change and safeguard ecosystems. The partnership aims to optimise feed and animal production, ultimately achieving sustainability in food production.