AGCO has announced the release of Auto-Guide 3000, a new integrated assisted steering solution, which aims to improve the efficiency of farming methods and maximise profits for African farmers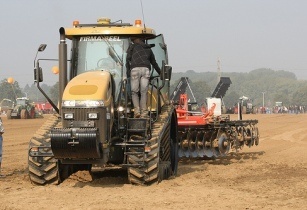 The Auto-Guide 3000 for farmers and agriculture enterprises aims to enhance efficiency and make quick returns on investment by adding precision technology solutions. (Image source: werktuigendagen)
The Auto-Guide 3000 is a satellite-assisted steering technology that marks the start of precision technology solutions from the company, according to the agricultural equipment manufacturer.
"Assisted steering has become a very important option on the machinery owned and operated by professional farmers," said Martin Richenhagen, chairman, president and CEO of AGCO.
"Professional farmers and agriculture enterprises can increase their efficiency and realize rapid return on their investment by adding integrated, precision technology solutions from our factories."
The rising demand for guidance systems has led AGCO to make plans for the next generation of guidance solutions.
AGCO ATS director Matt Rushing added, "Our new guidance solution is one of the most extensively tested guidance products that has come from AGCO to date."