Precision farming methods are becoming more popular, which has led to an increase in demand for tractors in South Africa, according to Hennie Hattingh, sales manager for agricultural tyres in South Africa and sub-Saharan Africa for Trelleborg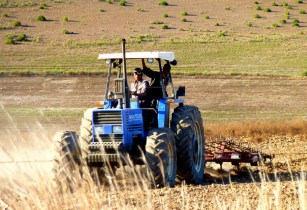 Emiliana Vesco, product manager agricultural and forest tyres for Trelleborg, explained that land productivity can be increased by preventing damage to the soil by tractors and other machinery. (Image source: sludgegulper)
Tractor sales in South Africa nearly doubled in 2010 reaching 7,963 units, with many farmers choosing to adopt precision farming methods in order to minimise soil compaction and enhance agronomic yield, said Hattingh.
Adopting these methods on his Mooitoekoms farm, Piet van Rensburg, a fourth-generation farmer in Bultfontein, uses Trelleborg TM900 High Power tyres on his Case Magnum 340 and Magnum 225 tractors
"I work in very sandy soil," said van Rensburg.
"And the bigger the tire I can have, the less compaction and more traction there is on the soil. I can't complain about the life-span of the tires either. I am up to 3,000 hours on the Magnum 225. Trelleborg tires make more productive and increase the fuel efficiency of my vehicles."
Another way to increase land productivity is to prevent damage to the soil by tractors and other machinery, according to Emiliana Vesco, product manager agricultural and forest tyres for Trelleborg.
"Compression by tyres affects the structure of the soil, affecting its ability to absorb water and nutrients and therefore affecting yields," said Vesco.
"Our aim is to design and produce tyres that respect the structure of the soil and preserve its organic life by minimising mechanical damage," he added.