The 2013 range of Master Driers, which incorporate a range of new features, have been unveiled by Master Farm Services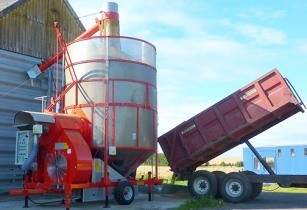 Master Farm Services offer new operating systems, which feature both electric and PTO driven driers. (Image source: Master Farm Services)
Master Farm Services has introduced New Age Technology, which can be personalised to meet individual requirements, with capacities from 10 tonnes to 45 tonnes.
According to the company, the new operating systems feature both electric and PTO driven driers.
The programmes provide full Automatic Mastermatic Touch Screen Control System with manual override, all of which allows the crop to be dried to meet individual requirements.
Electric Drive models, operated by a small Siemens Computer Unit with Touch Button controls, are increasing in popularity.
All the models have a '3 Stage Burner' which has three fuel nozzles that work in any sequence to give a wide choice of temperatures without having to change the fuel jet.
Master Driers aims to offer efficient drying and simplified operation with manual or automatic programmes, the company said.