As the mechanical crop care is becoming increasingly important, APV has unveiled the crop management solutions Tined Weeder AS, the Rotary Hoe RH and the Tined Weeder Pro VS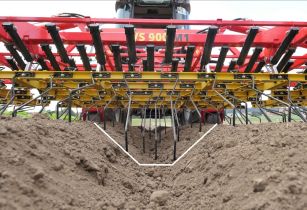 The aim is to boost farming productivity. (Image source: APV)
The APV Tined Weeder Pro has been designed in a way that enables the user to adapt the tine pressure so that only the tine's own weight is working. This option increases the period of use enormously, as optimum weeding results can also be achieved in the sensitive plant stages.
With its innovative tine and spring system, the Tined Weeder Pro adapts precisely to the soil and protects the crop at the highest level. Due to the spring system, the tines adapt perfectly to the soil, while the tine pressure remains constant at different time levels. As a result, crops planted on ridges such as potato, carrot or similar, can be harrowed and it is guaranteed that the ridge remains its shape.
The tines, in contrast to the conventional Tined Weeders, are mounted wide. The benefit of this is that the tine can only move downwards and upwards and not to left or right.