GRIMME, Damme (Germany)-based agricultural machinery manufacturer, has launched the new web grader WG 900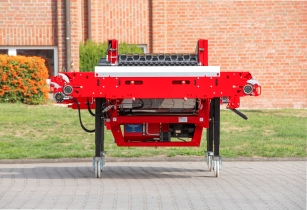 Web graders are used to grade different sizes when storing potatoes and onions. (Image source: GRIMME)
Effective grading surface
GRIMME's WG 900 is set to increase the effective grading area by 15 per cent compared to the previous model. However, the overall length of the grading web has remained the same, so that the available grading webs of the previous model can be used. In addition, the drop step from the grading web onto the grading cross conveyor could be reduced by 60mm.
Reducing downtime
The QuickConnect system aims to reduce downtime by up to 70 per cent compared to conventional web-joiners. Thus grading webs can be adapted to the desired tuber size more quickly and easily.
To join the two ends of the grading web, the hook elements are clicked onto the connecting rod. To open, the quick-change system can be disconnected by hand.
Increasing crop protection
Due to a permanent contact between the redesigned eccentric agitator and the rubber fabric grading web, a uniform undulating web movement is generated, which contributes to a significant improvement of the grading performance. Furthermore, the continuous contact of the eccentric agitator gently lifts any wedged crop out of the meshes.
Integration into the storing line
The new 800mm wide grading cross conveyor enables the sorted crop to be transferred to subsequent conveyor belts without any bottleneck. For an easier integration into the storing line, the machine can optionally be equipped with a height-adjustable chassis.