US farm equipment manufacturer Bobcat has launched new telescopic loader TL358+ AGRI specially designed for agricultural applications and heavy-duty farm jobs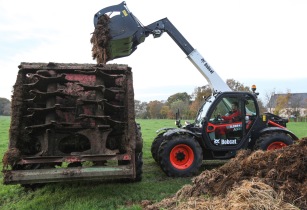 The economical drive system of the TL358+ AGRI model provides a balance between top performance and providing the best performance/fuel consumption ratio. (Image source: Bobcat)
The TL358+ AGRI is powered by a 100 hp Deutz engine and the hydraulic system is controlled by a single Bobcat joystick in the cab linked to a load sensing valve block that allows flow sharing depending on the operator choice and the need of an application.
According to the company, the main attribute of the new TL358+ AGRI model is its versatility, with three different machine dimensions offering compactness where it is required and top performance at all times.
The telescopic loader is equipped with a fully automatic hydrostatic transmission allowing it to reach a top speed of 40 km/h.
"The machine is available as standard with 20-inch tyres, but can also be equipped with 24-inch tyres for better ground clearance and traction. The cab can be mounted in two ways — low position that results in the very low 2.1-metre height or a higher position to optimise the visibility for the operator in the cab.
"It is a very compact machine, which is 2.1-metre in height and 2.1-metre wide and provides exceptional performance, comfort and visibility for a machine of this size," Bobcat added.
Other features include a dual FNR option, which allows the operator to choose between the joystick and a lever on the steering wheel for forward/reverse control. The SHS (Smart Handling System) allows the operator to adjust the speed of the boom movement depending on the type of work being carried out.
The FNR setting can be used for loading or clearing manure and similar materials, whilst a SHS setting is ideal for placing bales or other more precision work on the farm.