Ghana will receive a US$96million concessionary loan facility from Brazil to boost small-scale farming in the country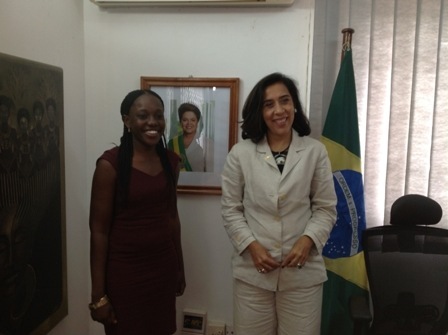 Alberta Nana Akyaa Akosa (left) and Irene Vida Gala. (Image source: FAGRO)
The loan is intended to provide the government with the means to buy and distribute agricultural equipment to small-scale farmers, thereby helping to improve and modernise agriculture in the country.
The loan will also help build the competence of small-scale farmers, with the aim of reducing the importation of food and addressing food security concerns.
The provision of the loan has shown that relations between the two countries remain strong - a fact reinforced by the participation of 15 Brazilian companies in the upcoming fourth National Food and Agricultural Show (FAGRO) 2012.
Regarding the show, Irene Vida Gala, Brazilian ambassador to Ghana, said, "Our main aim is to advertise the Brazilian companies who will be participating and help them to understand that there are many possibilities and opportunities of doing business in Ghana.
"We want them to also understand the level of Ghana's agricultural sector and to build a sound and strong business relationship in Ghana," she added.
Gala said that the agricultural sector in Ghana would improve dramatically over the next 30 years if focus is placed on technology and added that she hoped it could emulate the success of Brazil, which has rapidly adopted modern technology in the agricultural sector.
Alberta Nana Akyaa Akosa, exhibition director of FAGRO, claimed that the show would draw a diverse local and international audience, creating opportunities for them to form strategic partnerships that would help them expand their agri-businesses.
The theme for FAGRO 2012, which will take place on 23-25 August, 2012 at the Efua Sutherland Children's Park in Accra, will be 'Linking farmers to the appropriate market: a value chain process'.