Tanzania-based Kijani Hai has installed Bühler DA MultiVision optical sorter in its new export line and recorded a 20% increase in its annual savings thanks to less physical loss of coffee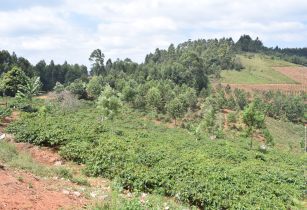 Kijani Hai's aim to mitigate the effects of deforestation, Bühler maintains a commitment to boost climate protection with its ongoing roll-out of innovative, energy-efficient solutions. (Image source: Bühler)
Kijani Hai procures, processes and exports green Arabica coffee from the Ilela Coffee Plateau – an area, approximately 50 km from the Mbinga region that has been used for coffee farming for the last four decades. The company has 21 staff, four field operations around Tanzania and 9.000 farmers. It exported more than 2.800 tonnes of coffee in 2020 but is expecting to achieve 5.000 MT within the next two seasons.
Kijani Hai holds Organic and Rainforest Alliance certifications (RFA). Companies certified under the Rainforest Alliance Certification Programmes are trained to implement agricultural practices that help reduce the impact of one of the biggest issues faced by the coffee industry: deforestation.
Deforestation and female empowerment
Deforestation in Tanzania is due to a number of factors including agricultural practices and increased demand for fuelwood and timber supply. "The amount of trees being cut down at such an alarmingly high rate in Tanzania heavily impacts the environment which in turn affects our farmers and their livelihoods," said Alexander Wield, coffee trader at the CTCS Group.
Kijani Hai is also committed to improving women's role in coffee processing. "We work with Lupembe Mamas – part of our Kibanga co-operative – where we promote the women's coffee separately to develop a premium for their coffee," Wield added.
A trusted partner
Kijani Hai's aim to mitigate the effects of deforestation, Bühler maintains a commitment to boost climate protection with its ongoing roll-out of innovative, energy-efficient solutions. The company's goal to reduce the waste, water consumption and energy used in its customers' food production by 50% hugely appealed to the coffee co-op when seeking out a technological partner.
"In the past my team and I have operated both the SORTEX A and B and they work well withstanding the tests of volume and time, so Bühler was already on my radar," Wield stated.
Impressive cost savings
In May 2019, the Kijani Hai team installed a Bühler DA MultiVision optical sorter in its export line after the gravity table separation. The sorter features a high-resolution RGB color camera which enables Kijani Hai to detect up to five color defects in one sorting pass, minimizing the need for product re-sorting. The DA MultiVision has allowed Kijani Hai greater control of its operations.
"Looking ahead, we hope to expand internally within Tanzania and externally as we're always looking to bring Tanzanian coffee to new customers. CTCS will be maintaining its focus on East Africa and Central America – we eagerly anticipate whatever the future holds and will continue in our ongoing battle against deforestation and climate change," Wield concluded.