John Deere has launched 9R-Series tractor, which is designed to maximise time in the field and optimise yield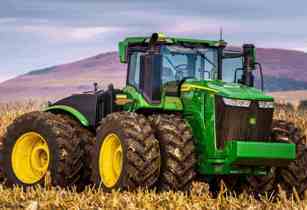 The 9R-Series tractors come equipped with the revolutionary John Deere PowerTech 13.6L engine. (Image source: John Deere)
The new 9R-Series is one of the most technologically advanced John Deere tractor in Africa and the Middle East markets which offers maximum power and state of the art precision ag technology, with configuration ranging between a wheeled (9R), two-track (9RT) and four-track (9RX), to ensure optimum performance, effectiveness and efficiency on all types of soil. It enables farmers to cover more ground in less time, with greater accuracy and quality, and reduce their operating costs.
The 9R-Series tractors come equipped with the revolutionary John Deere PowerTech 13.6L (830-cu in) engine. The new 13.6L engine offers 390-590 horsepower, optimal fuel efficiency and robust engine capacity throughout your day. We achieve this by leveraging a high-pressure common-rail (HPCR) system, and a hydraulic fan drive. The 13.6L engine offers 13.5% more horsepower than the 13.5L engine, 3% more fluid efficiency, 50% less engine noise, a 27% improvement in repairability and a 13% reduction in maintenance costs.
The new 9R-Series is designed for carrying out strenuous activities daily, with operator comfort and convenience. The operator station provides users with extended headroom, a wider entry path, a larger integrated refrigerator, new seat options, touchscreen radio, footrests and more. All 9R-Series tractors offer the choice of select, premium or ultimate cab packages to choose from.
There are new visibility packages on offer which provide additional lighting, sunshade and camera options, to ensure users are comfortable during extended working periods, regardless of the time of day. The increased max ballast, designed for maximum traction and drivetrain efficiency, ensures reduced slip, increased power at the drawbar and increased productivity.
The tractors include a Gen4 Command Center, AutoTrac activation and JDLink, which features an all-new StarFire 6000 Integrated Receiver. JDLink connectivity provides farmers with John Deere connected support and expert alerts, to help ensure that the tractors operate without disruption.
The StarFire 6000 Integrated Receiver is designed to reduce setup time by eliminating terrain compensation module (TCM) calibrations. The reduced pull-in and remote software download allows enhanced precision and control. All receivers are fully serviceable and upgradable to newer generations. The Gen4 4600 Command Center Automation Activation 4.0. is another addition to its integrated technology suite.
At the forefront of agri-technology, the new 9R-Series comes equipped with the latest precision ag applications. AutoTrac Turn Automation allows for accurate and repeatable end-of-pass turns throughout the entire field. AutoTrac Implement Guidance (passive guidance) allows the tractor to travel off the guidance line while keeping the implement on the intended path.
AutoPath is an industry exclusive application that uses data collected from the first pass in the field, to establish precise row guidance for all subsequent field passes, irrespective of the machine type, or equipment width.
Gen 4 Machine Sync creates a wireless network between the tractor and combine, to enable on-the-go unloading by ensuring the grain cart arrives on time, and automatically follows the harvester.
Section Control is an application that turns machine or implement sections on and off automatically. In-Field Data Sharing is another precision ag application that allows users to share maps and guidance lines, and review the performance of machines working in the same field.
All integrated technology is country-specific, depending on in-country requirements and prior approvals by John Deere.