Bühler has announced the opening of Mill E3, which is claimed to be one of the most high-tech mills on the market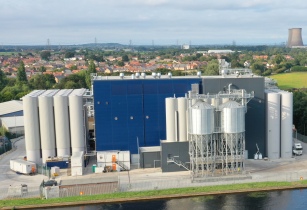 The development of the self-adjusting mill will be the precursor to the SmartMill. (Image source: Bühler)
Mill owner Whitworth Bros Ltd is reaping the benefits of the Mill E3's technological and digital capabilities. The data generated and analysed at the Whitley Bridge plant will drive the evolution of milling technology from the current data assisted mill into a plant capable of using its own process parameters in a closed loop to optimise production. This development of the self-adjusting mill will be the precursor to the SmartMill.
Roman Sonderegger, head of Business Unit Wheat & Rye at Bühler said, "This is a very significant project for Bühler that allows us, for the first time, to gather so much new data on the milling process. This is also momentous in working towards our corporate target of cutting energy, water, and food wastage by 50% in our customer value chains by 2025."
The concept of the Mill E3 centres on the idea of using modular 'plug and play' installation of milling equipment to cut the installation time by up to 30%. It also cuts building costs by reducing the volume of the mill.
The Arrius fully integrated grinding system, a key component of the Mill E3, provides lower energy consumption, faster installation, along with the highest food safety standards, reliability, and optimum grinding performance.
"The wheat coming into the mill is first checked by online sensors to establish its key parameters," explained Andrew Thomson, technical miller for Whitworth Bros. "But then the sensors in the Arrius recheck and control the distribution of the feed, which allows the grinding system to adapt again to the changing characteristics of the wheat at the point of milling. It is this unique usage of sensor technology that ensures optimal grinding parameters are achieved at all times," he added.