Case IH has added two new models to its popular Puma tractor line, the Puma 155 ROPS (with a maximum output of 161hp) and the Puma 185 ROPS (producing a maximum of 197hp)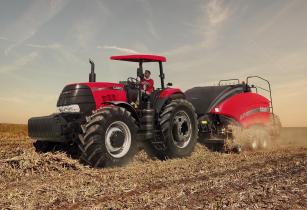 Both the new Puma models are built to efficiently operate large hydraulic implements. (Image source: Case IH)
Both vehicles are being introduced in response to demand for more powerful tractors with an open deck, a canopy, and a rollover protective structure (ROPS), the company commented.
Christian Ramnek, Middle East & Africa product marketing specialist tractors at Case IH, said, "These two new Puma models are ideal for farmers who need multipurpose tractors in the medium horsepower range and a perfect balance between power and weight. Just as with the well-established Puma cab models, they are capable of performing light and heavy tasks in a wide range of applications. We expect to see these tractors go into service in haulage, cultivation, seeding, crop protection, and heavy draft operations. They are also useful for stationary work such as driving water pumps, generators, wood-choppers, hammer mills and other applications."
Beneath the familiar Puma hood with its shark-fin air inlets, each new tractor is equipped with a 6.75-litre six-cylinder engine with mechanical fuel injection. Combustion is enhanced by a turbocharger with an air-to air intercooler which cools the compressed air to increase its density. Power output is complemented by 690 Nm of torque at 1,400 rpm in the Puma 155 ROPS and 760 Nm of torque at 1,400 rpm in the Puma 185 ROPS.
The FPT Industrial engine drives through a 15x12 synchronised mechanical transmission designed for minimal power losses. This provides a mechanical shuttle shift (forward/reverse) and nine speeds in the main working range of 4-12 km/h (maximum speed is 30 km/h). An optional creeper gear offers 30x24 speeds and a minimum working speed of 0.4 km/h at 2,200 rpm. For mechanically driven implements the PTO (power take off) system offers two speeds at 540 and 1,000 rpm.
Both new Puma models can efficiently operate large hydraulic implements, with an oil delivery rate of 110 litres/minute at rated engine speed and system pressure of up to 215 bar. With a powerful three-point linkage with a real lift capacity of 6,475 kg through the whole lift range, even the biggest implements can be operated. Case IH's renowned Lift-O-Matic quick-raise system ensures easy and accurate setting of implement lift height and work position as well as quick, comfortable headland turns.