AGCO Corporation has introduced the industry's first Class 8 large square baler at AgriTechnica in Hanover, Germany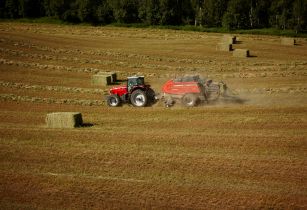 Small and large square balers are ranked in Class 1 through Class 8 using rated plunger load. (Image source: AGCO)
The Model 2370 UHD baler has been created to meet the needs of large commercial hay growers, operations that export hay and biomass material and businesses harvesting biomass for the biofuels and livestock feed industries.
This new baler is designed specifically for producing heavy, dense bales from light-weight, dry, slick grass and crop residue that can be hard to bale. It offers the throughput and reliability large operations require when harvest windows are small, and tons-harvested-per-day is driving an operation's profitability.
"As their market demands increase, our customers have asked for even more capacity, density and reliability from large square balers," said Shaun Allred, tactical marketing manager for hay and forage products at AGCO. "Our engineers in Hesston, Kan., went to work, and the result is the industry's first Class 8 baler. The Model 2370 UHD makes 3' X 4' bales with 20 percent greater density than our industry-leading Model 2270XD baler, and it is built with the durability to run under high loads, covering thousands of acres, bale after bale."
Small and large square balers are ranked in Class 1 through Class 8 using rated plunger load, the most measurable factor impacting a bale's density. Class 8 is for balers with 750-plus kilonewtons (kN) plunger force, the highest classification.
Key features of the new large square baler, include a faster, 15 per cent heavier, more powerful plunger that operates at 50 strokes per minute. It packs a maximum load capacity of 760 kilonewtons (kN) – 63 per cent greater than the 2270XD baler. It also offers a heavy-duty main chassis frame, designed to handle heavier loads commonly seen when producing ultra-high-density bales. An all new OptiFlow pickup assembly system with five tine bars and 80 double tines on the pickup assembly to deliver 25 per cent greater pickup capacity compared to previous Hesston balers is naohter new feature. The machine is has a simple design with fewer cylinders, hoses, couplers and hardware compared to competitive balers, to help reduce maintenance and service and offers greater twine capacity and new shielding that makes service faster and easier which also helps keep the baler running more hours for greater productivity.