New Holland Agriculture has added to its T6 Series offering with the new T6 Dynamic Command, an all round multi-purpose tractor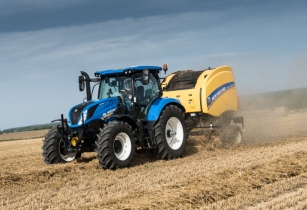 The new models feature an eight-step semi powershift transmission. (Image source: New Holland)
These new T6.145, T6.155, T6.165 and T6.175 models in this segment feature a new eight-step semi powershift transmission on the market. They are extraordinarily versatile tractors that will be an asset to the fleets of arable, livestock, dairy farmers, contractors and hay and forage operations.
New Holland's new models cater to a wider range of customers: those looking for entry level technology in a tractor mainly used for yard and light field applications close to the farm can opt for the T6 16x16 Electro Command with four-step semi powershift; those requiring a multipurpose tractor for cultivations and haulage can choose the new T6 24x24 Dynamic Command; and customers who want all-round performance where exact speeds are critical can find the perfect solution in the award-winning T6 Auto Command with continuously variable transmission.
Sean Lennon, head of the Tractors Product Line, explains, "New Holland has a proud historic legacy in providing customers in this segment firstly with product choice and always with value for money, From the 90 Series FiatAgri, TS and TS-A models, through to the current T6 tractors. The Dynamic Command now introduces an additional level of technology to the sector, there's definitely a T6 now for every customer and every farming business."
The Dynamic Command is designed in-house and built on a new dedicated production line in the New Holland driveline plant in Modena, Italy. World Class Manufacturing auditing ensure high quality is consistent and measured throughout the production process, from machining to final testing.
When talking of design, the all new 24x24 Dynamic Command transmission has no compromises when it comes to increasing efficiency, the less power it takes to operate the transmission results in the customer seeing higher work-rates with lower fuel usage. At the heart of the three range, eight-step semi-powershift, transmission is a Dual Clutch concept, similar to that which operates the seamless range shifting within the Auto Command transmission.
The four odd numbered gears and one clutch are located on one shaft, the four even gears and one clutch on a second shaft. Power is then simply modulated between the two clutches, as an odd gear is disengaged with one clutch the second clutch is engaging the even gear ratio. All silky smooth, simple and ultra-efficient. Dedicated clutches for forward and reverse ensures a controlled power shuttle, even on steep gradients, while the range shifting is all robotised.
Power losses are minimised further by the use of a variable displacement lubrication pump, only supplying the volume of oil that is required, a small detail that contributes to overall efficiency.