The new LB434XL large square balers and ISOBUS Class 3 technology improve prductivity and performance across the range for African farmers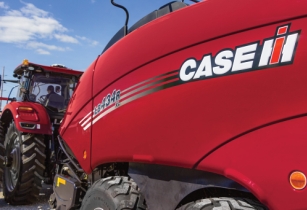 The new LB434RXL partnered with the Puma tractor. (Image sourced: Case IH)
The new LB434XL large square baler from Case IH helps high-volume hay and forage producers bale more hectares per day, thanks to improved capacity and greater bale density. Paired with a Puma tractor, this rugged and reliable baler produces consistent, uniform bales hectare after hectare — regardless of the crop or field conditions.
"Our customers are telling us that that they want heavier, denser bales – and that is what our new LB434XL balers can provide," says Jens Van De Mergel, Case IH Product Specialist for Combines, Hay & Forage and Sprayers for Africa and the Middle East. "Just as important, we're helping farmers hit peak nutritional value by giving them the technology they need to harvest each crop more efficiently. From tractors to balers and the latest precision technology, the growing line-up of innovative Case IH equipment at dealerships across Africa and the Middle East offers a one-stop shop for today's producer."
From the beefed-up bale chamber to the rugged frame, the LB434XL is designed from the ground up for large-scale hay and forage operations with a lot of ground to cover and a short time to do it. Operators will immediately notice an 80 cm longer bale chamber. This 31 per cent increase over current LB434 balers delivers up to 10 per cent higher bale density. Greater density means more crop per bale, decreasing bale count as well as handling, wrapping and transportation costs — helping producers reach new markets economically.
ISOBUS Class 3-enabled Feedrate Control technology makes the dense, well-formed bales produced by the LB434XL easy to achieve for operators of all skill levels. This technology allows the baler to run at optimal performance and capacity by controlling the speed of an ISOBUS Class 3-compatible tractor, such as the versatile Puma.