Case IH has celebrated the 175th anniversary of its foundation as an agricultural equipment business in 2017, marking the occasion with a number of product upgrades at a summer press launch in Slovakia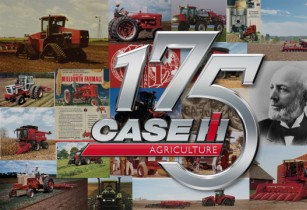 Case IH celebrated 175th anniversary in 2017. (Image source: Case IH)
In 1842, Jerome Increase Case founded the eponymous farm equipment company in the US town of Racine, Wisconsin, which focused on the manufacturing of machines to speed up the separation of grain after harvest.
With demand growing for mechanised ways to improve other aspects of agriculture, it introduced the industry's first successful steam tractor in 1869. In 1876 the company built its first self-propelled steam traction engine to provide threshing power.
In 1902, the International Harvester company was formed by five companies, all involved in the production of grain harvesting equipment. In 1915, IH produced its first combine, and eight years later introduced the Farmall, the world's first rowcrop tractor.
In 1977, IH launched a new combine design to revolutionise high-output harvesting, bringing with it more thorough yet gentler threshing than had previously been possible.
Case IH was formed in 1985, shortly after the-then parent of JI Case acquired the agricultural division of International Harvester, uniting the legacies of Case and IH in a single brand.
The first product to be developed by the merged team of designers and engineers was the Magnum tractor, a clean-sheet design introduced in 1987 and spanning 155-246hp. It became the first tractor to win the Industrial Design Excellence Award.
In 1996, Case IH launched the Quadtrac, the industry's first articulated high-hp rubber-tracked tractor, featuring oscillating tracks on each corner for maximum ground contact at all times, and with pivot steering for smooth, scuff-free turning.
According to the company, it continues to focus on innovative developments to help make farming more productive. The Magnum 380 CVX and Optum 300 CVX have won awards for providing the benefits to agriculture. With the Autonomous Concept Vehicle, as revealed at the 2016 Farm Progress Show in the USA, the company aims to help labour shortages and produce food as efficiently as possible.
"The 175th anniversary of Case IH is a testament to many years of quality, perseverance and progress," said Peter Friis, marketing director of Case IH for Europe, Middle East and Africa (EMEA) region.