Farming equipment company Case IH conducted a training course for more than 30 sales people in Kenya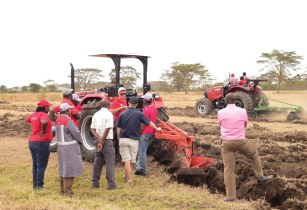 The training offered an opportunity for participants to get hands on experience. (Image Source: Case IH)
The theoretical and practical training course was held to meet the growing requirement for agricultural equipment and training on mechanised farming and machinery operation across African markets, according to Case IH.
The training course was designed to appeal to distributors, sales people and operators from across the Middle East and Africa, with models specific to each country. The course offered a mixed programme of theoretical and operational sessions.
"This event was the perfect opportunity for the sales people from our distributors to come and spend time using our products in the field with a variety of implements," Case IH Trainer Herve Vermersch said. "This has given them a better understanding of the capabilities and suitability of our products for different applications and environments."
The training also had a special focus on the latest Case IH tractor lines and covered a wide range of tractors, from the 35-75hp JXT and the 80-88hp Farmall JXM at the smaller end, through the 110-140hp Farmall A models and right up to the 112-141hp Maxxum and 142-213hp Puma tractors at the heavier end of the scale.
The training was hosted by Kenyan distributor Toyota Tsusho East Africa. Describing the importance of the agricultural sector in the country, Ian Allen, general manager Case Agriculture at Toyota Tsusho said, ""The agricultural sector represents 25 per cent of Kenya's GDP, employs 80 per cent of the population and is therefore a key sector of the economy. The government´s focus on developing agriculture is extremely important. It encourages the private sector to be a major player in developing agriculture and in particular mechanisation. We at Toyota, together with Case IH, are putting all our efforts into expanding mechanisation, so that improved yields can be obtained in order to feed the increasing population."