Case IH has launched the new Case IH Africa/Middle East App to help customers in the region make better-informed product decisions and to enable distributors to access machine specifications more easily and quickly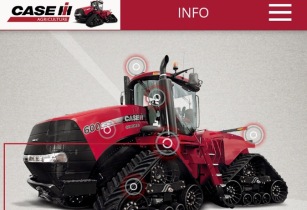 Screenshot from the app. (Image source: Case IH)
The new app provides comprehensive product information in a convenient, user-friendly way for users of iPads, tablets and smartphones and is compatible with Apple, Android and Windows devices. It can be downloaded free-of-charge in English and French under the search term 'Case IH Africa/Middle East.'
With the app, the company aims to give users easy access to technical specifications, product features and benefits for the entire range of Case IH equipment, including tractor and harvesting models, hay and forage tools, advanced farming systems, seeding, tillage and sprayers. The app also allows users to view product brochures, images and videos.
The Case IH Africa/Middle East app opens with a 3D wheel that enables the user to select an individual model. More detailed information is accessed via a series of images and "hot spots" – information trigger points with descriptions and close-up pictures. A useful comparison function allows users to evaluate key data from two different Case IH models side-by-side.
In addition to being helpful to customers, the new Case IH Africa/Middle East app will support the brand's distribution network. The app enables the Africa and Middle East network to reach all relevant e-documents with just one click.